The Many Benefits of Hu Tao Ren (Walnuts)
Apr 30, 2018
Blog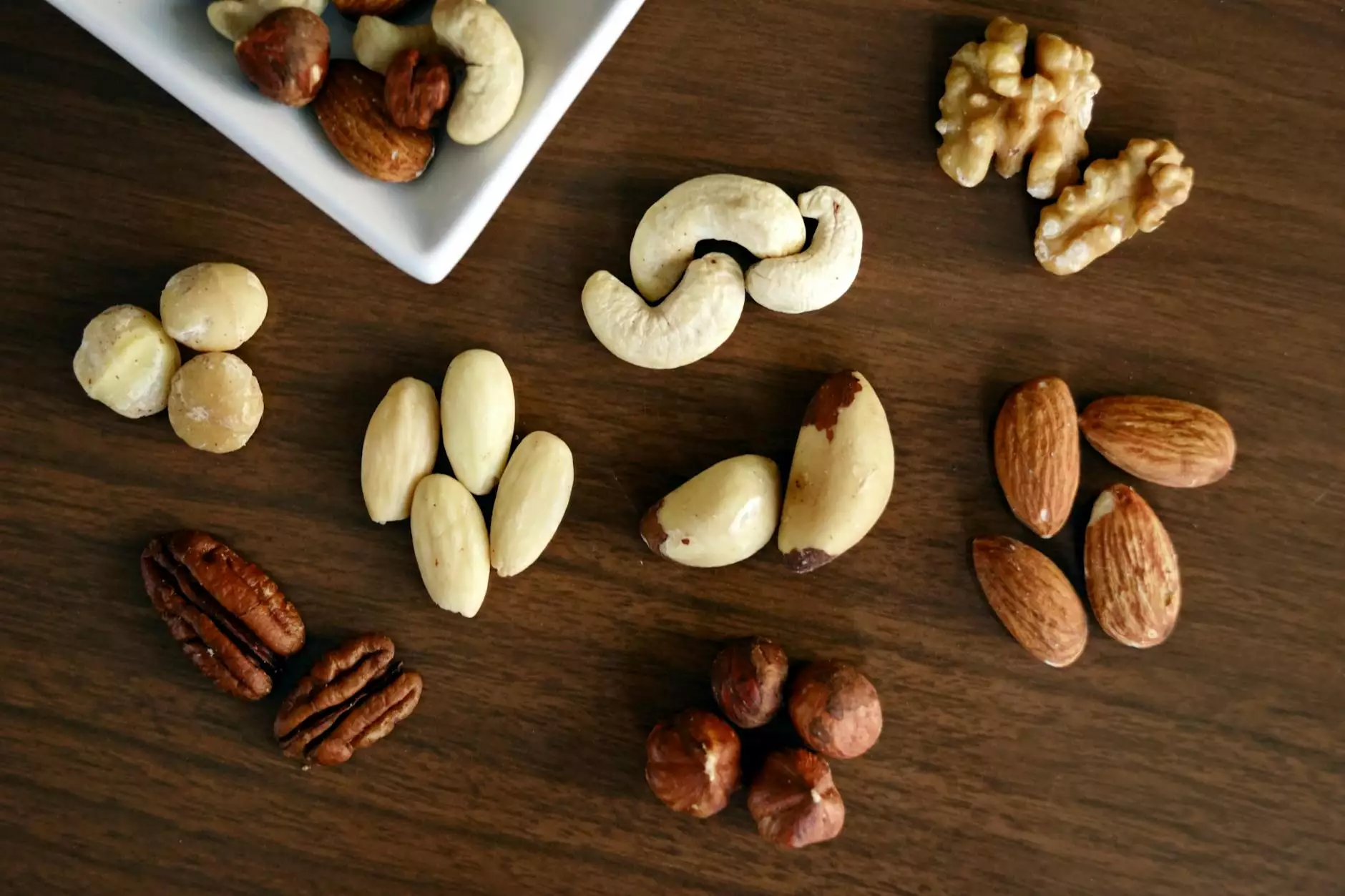 Introduction
Welcome to the informative blog post by Lynn Colucci, DC, where we uncover the numerous benefits of Hu Tao Ren, commonly known as walnuts. As a renowned chiropractor, Dr. Colucci believes in promoting holistic health, and Hu Tao Ren is a key ingredient in achieving overall well-being. In this article, we will delve into the nutritional value, potential healing properties, and various ways in which walnuts can contribute to a healthier lifestyle.
The Nutritional Powerhouse
Hu Tao Ren, or walnuts, are packed with essential nutrients that are vital for optimal health. These crunchy nuts are an excellent source of omega-3 fatty acids, antioxidants, vitamins, and minerals. Omega-3 fatty acids are known for their heart-healthy benefits, as they help reduce inflammation and improve blood circulation. Antioxidants present in walnuts protect the body against oxidative stress and may play a role in reducing the risk of chronic diseases.
Additionally, walnuts are rich in vitamin E, which is essential for maintaining healthy skin, hair, and nails. They also contain minerals like magnesium, copper, and manganese, which support various bodily functions. Incorporating walnuts into your diet can provide a nutrient boost and enhance overall well-being.
Promoting Heart Health
Walnuts have long been associated with heart health due to their omega-3 fatty acid content. These healthy fats help reduce bad cholesterol levels (LDL) and promote an optimal balance between good cholesterol (HDL) and bad cholesterol. Maintaining a healthy cholesterol profile is crucial for cardiovascular health and reducing the risk of heart disease.
Studies have also shown that walnuts may improve blood pressure control, thanks to their combination of omega-3 fatty acids, antioxidants, and other beneficial nutrients. Including walnuts as part of a balanced diet can have a positive impact on your heart health and overall well-being.
Boosting Brain Function
Walnuts are often referred to as "brain food" due to their potential cognitive benefits. The presence of antioxidants and omega-3 fatty acids in walnuts supports brain health and may help improve memory, learning, and overall cognitive function. These nutrients are believed to protect brain cells from oxidative damage and promote healthy brain aging.
Research suggests that incorporating walnuts into your diet may also reduce the risk of neurodegenerative diseases, such as Alzheimer's and Parkinson's. While more studies are needed to fully understand the mechanisms at play, the potential brain-boosting properties of walnuts make them a valuable addition to any diet.
Supporting Digestive Health
Walnuts contain a significant amount of dietary fiber, which plays a crucial role in maintaining digestive health. Adequate fiber intake helps promote regular bowel movements, prevent constipation, and support a healthy gut microbiome. The fiber in walnuts also acts as a prebiotic, nourishing beneficial gut bacteria and promoting overall digestive well-being.
Incorporating walnuts into your daily routine can provide a valuable source of fiber, aiding in digestion and ensuring a healthy gut environment. A healthy digestive system is essential for optimal nutrient absorption and overall wellness.
Weight Management and Satiety
Contrary to popular belief, walnuts can be beneficial for weight management when consumed in moderation. The combination of healthy fats, protein, and fiber present in walnuts can help promote feelings of fullness and reduce appetite, thus aiding in portion control and maintaining a healthy weight.
Additionally, walnuts have a low glycemic index, which means they have a minimal impact on blood sugar levels. This characteristic makes them a suitable snack option for individuals managing diabetes or those looking to stabilize their blood sugar levels.
Incorporating Walnuts into Your Diet
There are numerous delicious and creative ways to incorporate walnuts into your daily diet. Here are a few suggestions:
Add walnuts to your morning oatmeal or yogurt for an added crunch and nutritional boost.
Sprinkle chopped walnuts onto salads, roasted vegetables, or stir-fries for extra flavor and texture.
Blend walnuts into homemade pesto or sauces to enhance both taste and nutritional value.
Use ground walnuts as a substitute for breadcrumbs in recipes like meatballs or veggie burgers.
Bake walnuts into your favorite bread or dessert recipes for a nutty twist.
Remember to store walnuts properly in an airtight container in a cool, dry place to maintain their freshness and quality.
Conclusion
In conclusion, Hu Tao Ren (Walnuts) are an exceptional addition to any diet, offering a range of health benefits. From promoting heart health and boosting brain function to supporting digestive health and aiding in weight management, the nutritional prowess of walnuts is truly remarkable. By incorporating walnuts into your daily routine, you can enjoy their delicious taste while reaping the many rewards they offer for your overall well-being.
© 2022 Lynn Colucci, DC | All rights reserved.